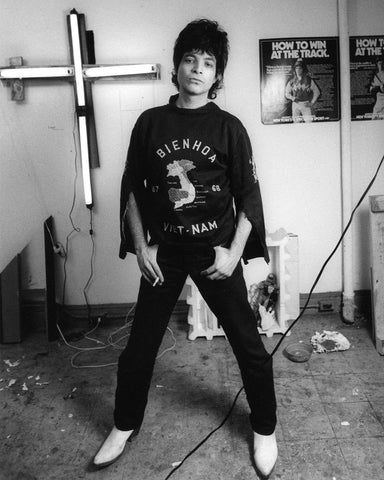 Alan Vega
The visual artist, musician, and poet Alan Vega was born in Brooklyn in 1938. He co-founded the massively influential avant-garde band Suicide with Martin Rev in 1970, with whom he performed off and on throughout his life. Suicide's debut album was included among Rolling Stone's list of the 500 greatest albums of all time, and it was a formative work in the invention of synth-punk, post-punk, art rock, industrial music, and more.
Vega would go on to have a prolific career as a solo artist. His hit song "Jukebox Babe" led to a contract with Elektra Records, who released two albums including the cult classic Saturn Strip, produced by Ric Ocasek. From there, rejecting the commercial machine, he went back to his roots, doing a deep dive into experimenting with sound in the studio. This era resulted in new solo records coming out consistently throughout the next several decades starting with Deuce Avenue and culminating with his masterpiece It. Vega considered these records the audio counterpoint to his visual art that reflected the world around him while simultaneously delving into universal themes. It makes his work as relevant today as it was then.
It was during this period that he began working with Liz Lamere, who became the most crucial collaborator of his solo career. Lamere, along with fellow Vega collaborator Jared Artaud (The Vacant Lots) discovered in 2019 the lost Vega album Mutator, in which they co-produced and mixed to be released on Sacred Bones. Along with creative director Michael Handis, they are now spearheading the Alan Vega Vault project, which aims to bring rare and unreleased work from throughout Vega's career to the public for the first time.