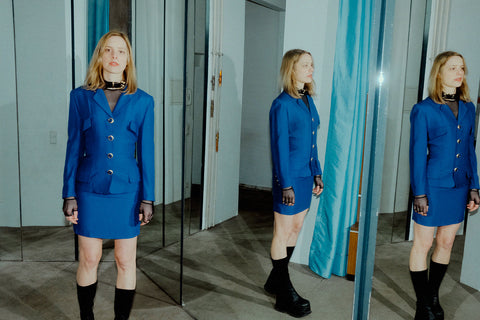 Anika
Anika a.k.a Annika Henderson (D/GB), born 1987 in Woking England, is a hybrid artist. The former journalist made a name for herself in the electronic music scene, with her experimental sound collages, confrontational texts and unique way of performing live solo. Her breakthrough came in 2010 with the release of the cult-hit, experimental LP, Anika (Stones Throw /Invada), which she recorded with Geoff Barrow and band Beak> in Bristol, a wholly unexpected and unplanned affair, which began Anika's long and winding road into the music, film, poetry and arts scenes. Her most known song remains "I Go To Sleep," a cover of The Kinks' 1965 classic.
Since, she has collaborated with a wide spectrum of musicians, artists and film-makers, amoung them: Tricky, Gudrun Gut and Beate Bartel (Malaria!, Liaisons Dangereuses), Jandek, Shackleton, Michael Rother (Neu!), Dave Clarke, PBDY (Brainfeeder), Melanie Jame Wolf, SYNY, T.Raumschmiere, Andreas Reihse, Doireann O'Malley, Ricardo Domeneck and Yann Tiersen. She also provided the distinct voice to Rainer Kohlberger's "It Has to Be Lived Once and Dreamed Twice," which premiered at the Berlinale 2019. Alongside, she formed the band Exploded View in Mexico City, in 2015, along with local synth freak legends Hugo Quezada, Martin Thulin and Amon Melgarejo. They have since released two LPs and an EP on Sacred Bones, touring the Americas and Europe extensively. Not content with human collaborators, the artist developed a lyric-writing robot with computer programmer Raul Sanders and took to the stage with it, performing and improvising its regurgitated produce live over music.
She also spent time in Tehran, Iran on music residence with Border Movement Berlin, exploring and photographing the local scene, musically collaborating with underground artists, half-performing live within rigid restrictions and composing the soundscape for Germany's best-loved art export, Philipp Geist and his live light projection on the Azadi Tower.
She has performed extensively since 2009, with and without band, in renowned venues and festivals across the globe, such as the Portishead-curated All Tomorrows Parties in New Jersey and London, Moog Festival, alongside the likes of Suicide, Tangerine Dream, Silver Apples, and Moebius, Mexico City's Normal Festival, Tehran's Tadaex, Berghain, Atonal festival, SKIF St Petersberg, and WWWX Tokyo among others.
She interweaves dub, post-punk, and psychedelic, with shadows of dnb and a strong emphasis on the voice.
Henderson operates as a poet, composer, musician, DJ, photographer, radio host and film-maker.