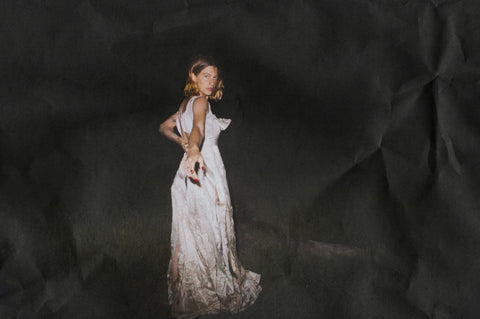 Indigo Sparke
Indigo Sparke writes with a rare and reflective power, creating music that builds and bursts as she examines love, loss, grief, and a newly realized rage. Born in Australia and now based in New York, Indigo worked as an actress before establishing herself in the Sydney music scene with her EP Night Bloom (2016). Over the next few years, she toured and collaborated extensively with Big Thief, released her single, "The Day I Drove the Car Around the Block," to critical acclaim, had a song featured on the TV show Cloudy River, and performed across Australia and the U.S., including at the Splendour in the Grass Festival, a Tiny Desk Concert at NPR, and SXSW 2019 and 2021.
Indigo signed with Sacred Bones in early 2021, and made her label debut shortly after with Echo, which she co-produced with Adrianne Lenker (Big Thief), and Andrew Sarlo (producer of Big Thief, Nick Hakim, Bon Iver, and Hand Habits). Pitchfork described Echo as  "a dark little star of intimacy and intensity… Sparke sings with quicksilver emotional ferocity." In spring 2021, Indigo began work on her second album with producer Aaron Dessner (The National, Taylor Swift). That album, Hysteria, released in October 2022 and is packed with big guitars and layered instrumentation that act as lungs, giving every note breath underneath Indigo's soaring vocals.
2023 sees the release of the soaring new single In The Garden, co-written by Chairlift's Patrick Wimberly and produced by Jake Portait (Unknown Mortal Orchestra). Arguably her most pop leaning production to date; driving beats, groove laden bass, seductive guitars and what sounds like an actual choir of angels all serve to build this intoxicating sound but it's Sparke's beautiful vocal delivery, lyrics, and her gentle invitation toward madness that give this song its euphoric and poignant edge.