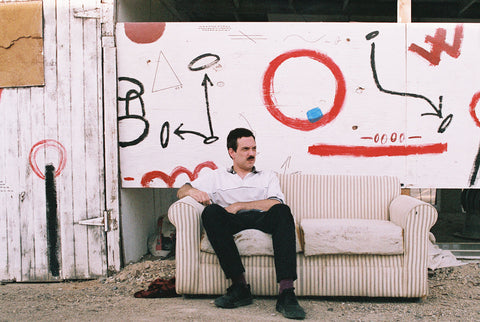 Black Marble
Black Marble emerged from NYCs cold wave revival scene in the early twenty teens, and released his first full length A Different Arrangement in October of 2012. Signed by Sub Pop imprint Hardly Art after releasing just one song online, Black Marble quickly hit his stride alongside other NYC synth acts like Martial Cantrell Led Er East and Frank (Just) Frank - playing small club shows in the bowels of Manhattan's Lower East side to small but dedicated throngs of in-the-know city kids. Released to wide acclaim, it took Stewart four years to follow it up with 2016s It's Immaterial. Well received in it's own right as a worthy successor to the strict, slightly dour and yet catchy formula that seemed to galvanize so quickly with ADA, It's Immaterial saw Stewart exploring slightly more melodic territory without losing the charm that gave the project its initial momentum.
2019 saw Stewart change coasts (New York for LA) as well as Labels (Ghostly for Sacred Bones) to coincide with the release of his third album, Bigger Than Life, which reflected the change of scenery by letting more light creep into his sound without losing the detachment of his subject matter. Pitchfork weighed in by saying: Stewart positions many of his characters as passengers observing the city from the window of a crosstown bus, freaky classmates keeping bones under their bed, or lonely introverts looking for salvation in consumerism. Written in the face of cultural shifts in the US, he realized he had not been keyed into certain negative sentiments that were bubbling up to the surface and now breaking out into the open. "I chose to take the approach of a soothsayer writing from a macro level, trying to find strands of connection between us, because it didn't feel appropriate to create something self referential and gloomy at the time," he says.
Now, Stewart returns two years later with his fourth full length record (and second for Sacred Bones) entitled Fast Idol. On it, Stewart takes the next logical step from BTL, keeping its evolving and more unexpected arrangements while returning to some of the more moody production that defined some of his earlier work. Melodies roll with the fizz and charm of Jacno and phrases repeated are electric torchlight ballads sung after hours in William Gibson's San Francisco. Writing and playing everything himself, Black Marble carries on the tradition of early synthwave pioneers like Martin Dupont and Modern Art, who made their mark at the end of the 1970s when synths became affordable for the first time. Repurposing them from status symbols of stadium bands into cultural signifiers for bedroom artists, they sought to connect wires and twist knobs into something that felt entirely new.
Comfortable with his place in this lexicon, Fast Idol sees Black Marble face the rising tide of uncertainty with an oblique wink and nod, leaving our future selves to trace its signal as its frequencies echo into an interstellar expanse. He says: "I want my music to stick with you after I leave and I want you to take something from it, even though you might not feel like you've totally unraveled it".