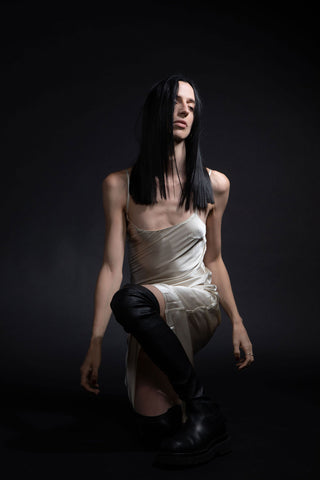 Domingæ
Domingæ is a musician and filmmaker living in Mexico City; she founded her band Föllakzoid in 2007 which has been releasing music with Sacred Bones for 10 years and performed at legendary international venues like Koko in London and Berghain in Berlin and festivals like Primavera Sound in Barcelona, Dark Mofo in Tazmania or more recently closing the last edition of Le Guess Who in the Netherlands.
Domingæ has worked closely with remarkable musicians both as a filmmaker, like in the case of Jozef van Wissem (Cannes award-winning composer for Only Lovers Left Alive), as a band with Jason Pierce (Spacemen 3/Spiritualized) and also as a solo artist remixing a song for Dave Gahan.
Last year she musicalized the Japanese collection of the renowned designer Kozaburo's runway for Rakuten Fashion week Tokyo 2021 making that her 3rd contribution with the fashion house.