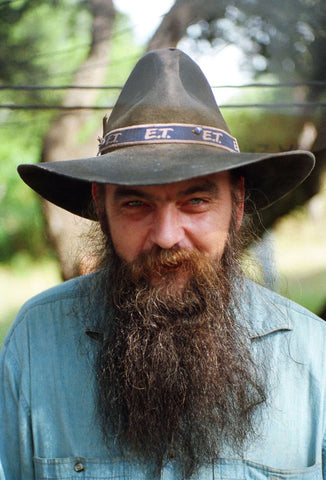 Blaze Foley
When Blaze, who was still Depty Dawg to us, sang at our dining table back in '76 and '78, he would be of a temper that was still juicy and ripe from his time in Whitesburg, Ga., when he fell in love with his muse Sybil Rosen, and they had lived in a tree in the woods. To me, these songs you have here are the summary of his time of rediscovering a happy innocence in Sybil's arms. Our baby son is lovingly included at the table. Here, also, you find his innocent curiosity taking him to the threshold of the Dark World that he was beginning to discover and would soon get lost in.
Our portable Uher tape recorder, an excellent machine for field work, was brought out by my wife for those occasions. I would never have thought of it, because I only wanted to be washed in the live moment. Oh, we all thank you Margery!
In my life there've been many occasions when I experienced intense and wonderful live moments. Depty Dawg, at this time in his life, could create the best such moments, like a warming flame. With extreme and loving care, we are honored to bring him home to you.