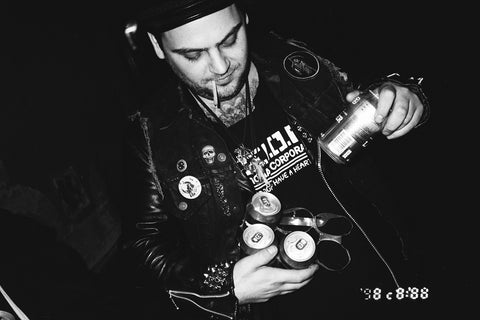 Alexander Heir
Brooklyn artist Alexander Heir has been drawing strange, other-worldly pictures for years. For those who truly crave the transgressive and are unfulfilled by the commercially "confrontational" trends in current zines and indie publications, Heir's work will connect immediately. Heir has been so prominently involved in designing, printing and producing for countless NYC and international artists that over the years his work has become one of the defining aesthetics in the contemporary underground punk scene. His work has graced the albums, singles and ephemera of highly regarded bands such as Hoax, Forward (Japan), The Mob (UK), Night- birds, Destruction Unit and Modern Life Is War amongst countless others.
Similarly, his popular clothing line Death/Traitors has become a staple among punks, the hip-hop scene, the tattoo community and beyond. Members of notable acts Three Six Mafia, Antwon and Odd Future have all been known to support the brand.
Alexander Heir's art has all the prominent elements of 50 years' worth of subversive underground culture. Somewhere between Garbage Pail Kids and Tom of Finland, this is the kind of art that gets kids in trouble with their parents. Heir's morbidity, which is blended with a sick humorous quality has a penchant for the bizarre, taboo, and a raw, physical compulsion has allowed him to achieve such delightfully confounding imagery. Referencing an eclectic cache of dark symbols in his unapologetically graphic style, he has created a stunning and recognizable collection of work. Amongst misanthropes and sickos alike—we finally have a new master on our side.