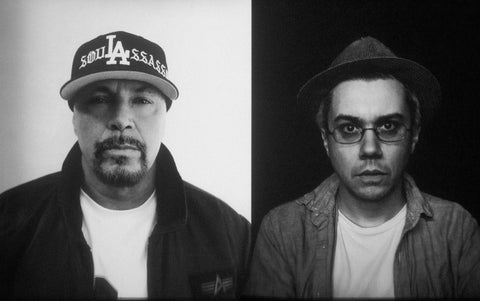 DJ Muggs and Dean Hurley
One of the foundational forces of'90s hip hop, DJ Muggs helped craft a singular sound that blended together the darker sensibilities of psychedelic rock and hip hop, influencing many in its wake. As the primary producer of legendary rap group Cypress Hill, Muggs' productions and sonic sensibilities are unmistakable and deeply revered by the truest of heads. Muggs' own imprint, Soul Assassins has been home to countless productions, laying sonic drop cloths for everyone from Dr. Dre, Ice Cube, Chuck D, GZA, and Mobb Deep to MF Doom, Freddie Gibbs, Roc Marciano and Mach-Hommy.
Dean Hurley is a film composer and sound designer best known for his partnership with director David Lynch. Hurley operated Lynch's Asymmetrical Studio for a decade and a half, collaborating closely with Lynch on a myriad of his film, commercial, and music projects…most notably Showtime's 18-episode series Twin Peaks: The Return. Hurley co-wrote and produced several LPs and soundtracks with Lynch, including 2011's Crazy Clown Time and 2013's The Big Dream. Hurley's own music production has additionally extended to artists like Sky Ferreira, Lykke Li, Zola Jesus, Chromatics and more.