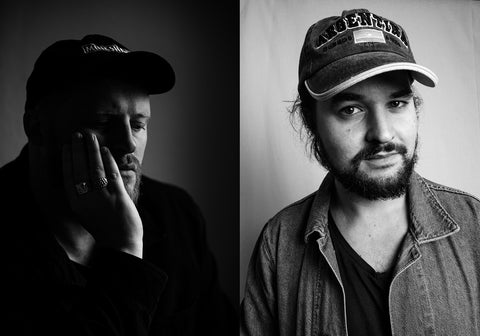 Robin Carolan and Sebastian Gainsborough
Robin Carolan is an Essex based composer and music producer who, to date, is best known for having started the independent music label, Tri Angle, and has collaborated with artists including Björk (an early supporter of the label), Forest Swords, serpentwithfeet, Clams Casino, and Holy Other. Operating between 2010 - 2020, Tri Angle was known for its frequent, critically acclaimed output and gained a reputation for being an influential presence, particularly within the electronic music scene.

Seb Gainsborough makes electronic and orchestral music under both his own name, and as "Vessel." Following the release of a series of electronica 12-inches in the early 2010's he was picked up by Robin Carolan's seminal Tri Angle imprint for his debut LP Order of Noise. In the years that followed, alongside two further critically acclaimed albums on Tri Angle, he undertook numerous collaborations and commissions incorporating orchestral instrumentation into the fold. The resulting works retain the uncanny tightrope of the organic and synthetic but with the limitless opportunity to explore presented by the connection between humans and their instruments.

The Northman is Carolan's first collaboration with director Robert Eggers. Joining Carolan to create the score is Sebastian Gainsborough. Over a 10 year period the two have worked together frequently, predominantly on Gainsborough's acclaimed solo project, Vessel, but The Northman marks the first time the duo have worked on a score together.