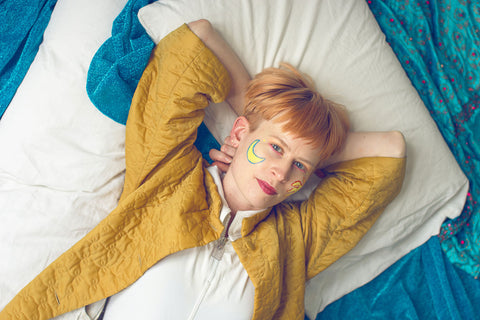 Jenny Hval
Norwegian artist and writer Jenny Hval has developed her distinct take on intimate sound since the release of her debut eponymous album in 2006. For her last two solo albums, 2013's Innocence Is Kinky and 2015's Apocalypse, girl, she has received thoughtful and widespread international acclaim for her fascinating voice, singular delivery and markedly non-traditional arrangements which incorporate elements of poetry, prose writing, performance art, and film. The New York Times defines her writing as "taking a scalpel to the subjects of gender politics and sexuality." Hval has eloquently brought to light issues of both male and female gaze, which for years had been swept under the rug and/or denied all together.
Hval's conceptual takes on collective and individual gender identities and sociopolitical constructs landed Apocalypse, girl on dozens of year end lists and compelled writers everywhere to grapple with the age-old, yet previously unspoken, question: What is Soft Dick Rock? After touring for a year and earning her second Nordic Prize nomination, as any perfectionist would, Hval immediately went back into the studio to continue her work with acumen noise producer Lasse Marhaug, with whom she co-produces here on Blood Bitch. Her new effort is in many respects a complete 180° from her last in subject matter, execution and production. It is her most focused, but the lens is filtered through a gaze which the viewer least expects.
From the artist:
Blood Bitch is a fictitious story, fed by characters and images from horror and exploitation films of the '70s. With that language, rather than smart, modern social commentary, I found I could tell a different story about myself and my own time: a poetic diary of modern transience and transcendence.
EU Booking: nikita@paperandironbooking.com
US Booking: andrew@billions.com