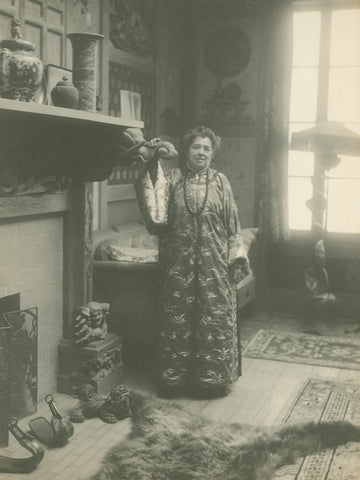 Emily Noyes Vanderpoel
Emily Noyes Vanderpoel (1842 – 1939) was an artist, collector, scholar, and historian working at the dawn of the 20th century. Her first and most prominent work, Color Problems: A Practical Manual for the Lay Student of Color, provides a comprehensive overview of the main ideas of color theory at the time, as well as her wildly original approaches to color analysis and interaction. Through a 21st century lens, she appears to stumble upon midcentury design and minimalism decades prior to those movements.

Presenting her work as a painting manual under the guise and genre of flower painting and the decorative arts—subjects considered "appropriate" for a woman of her time—she was able to present a thoroughly studied, yet uniquely poetic, approach to color theory that was later taken up and popularized by men and has now become ubiquitous in contemporary art departments.

Her remarkable inventiveness shines in a series of gridded squares, each 10 x 10, that analyze the proportions of color derived from actual objects: Assyrian tiles, Persian rugs, an Egyptian mummy case, and even a teacup and saucer. Vanderpoel had a deep knowledge of ceramics and analyzed many pieces from her personal collection. She leaves her process relatively mysterious but what is clear, as historian and science blogger John Ptak notes, is that Vanderpoel "sought not so much to analyze the components of color itself, but rather to quantify the overall interpretative effect of color on the imagination".

Throughout her artist career Vanderpoel worked primarily with watercolors and oils. She was vice president of the New York Watercolor Club that was founded in response to the refusal by the American Watercolor Society to accept women as members. Though formed in response to sexist exclusion, its jury-selected exhibitions had stricter standards for the content included in its shows, and, as a consequence, created an overall higher standard of work. This standard is evident throughout her career and the high caliber of her watercolor work culminates in another series in the book displaying square watercolor pieces. These pieces are artistic interpretations with poetic titles like "Color note from Bare Woods on the Edge of a Meadow" and "Color note from a Shadow on White Ground." Her square format predates Josef Albers' iconic Homage to the Square by some fifty years.

With a focus on the phenomenology, modulation, and experience of color and its harmonies, along with a design aesthetic that was decades ahead of its time, Emily Noyes Vanderpoel remains one of the most important, underrated, and contemporarily relevant artists of her time and of the last century.

This book has for too long languished in antiquarian book markets, never receiving its proper audience. With this publication, we aim to change that, and have taken meticulous measures to reproduce the original artifact with this new edition. Using the most current digital methods and archival printing production, we aim to do justice to Vanderpoel's forgotten legacy as visionary and pioneer.