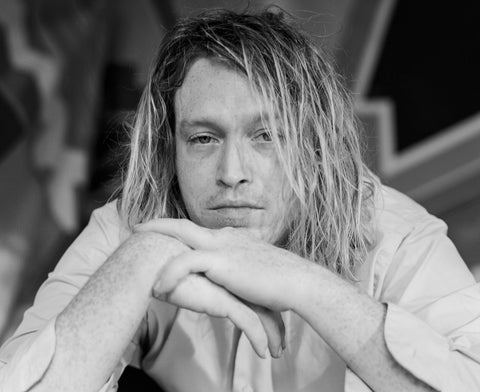 Caleb Landry Jones
Caleb Landry Jones is a continual creator. The Texan born star found fame as an actor – you'll recognize him from key roles in Florida Project, Get Out, Three Billboards Outside Ebbing, Missouri, amongst others and recently won best actor at Cannes Palme D'Or 2021 for his lead role in Nitram – but music is perhaps his first love, and his source of greatest comfort.
An encounter with famed auteur Jim Jarmusch brought him into the orbit of Sacred Bones, and the stalwart independent released Caleb's 2020 debut album The Mother Stone. Psychedelic in a defiantly non-retro way, this indulgent, freewheeling trip won critical acclaim, but masked a secret – he'd already finished another album. 
His second album Gadzooks Vol. 1 exists in a completely different realm from Caleb's debut. Ranging from spider-like wisps of neo-psychedelia through to vast swathes of synthetic chords, it's a record that moves from joy to despair, from horror to glib humor.
With his forthcoming release Gadzooks Vol. 2, Jones places him-self in a lineage of outsider artists, many with only a thin thread tethering them to this reality, who are capable of reaching into the cosmic realms of imagination and bringing back a musical masterpiece. And while most artists don't save some of the best music of their career for an album with 'Vol. 2' in the title, Jones is an artist for whom chronology is a slippery substance. Gadzooks Vol. 2 releases on November 4, 2022.