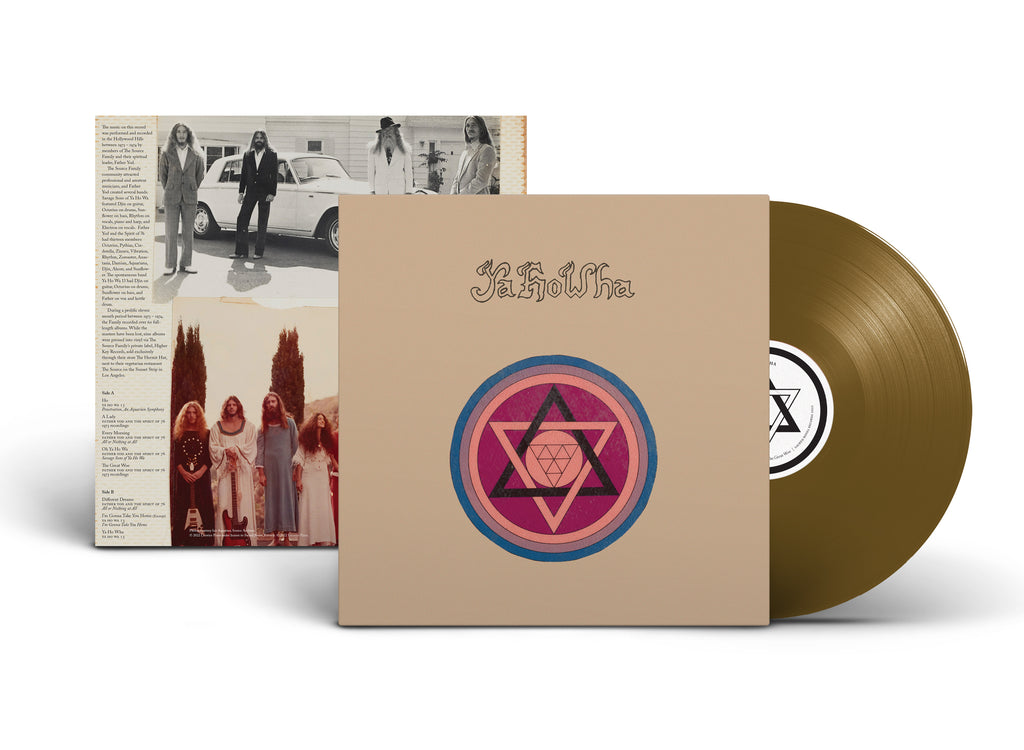 Ya Ho Wha
Sacred Bones Presents the Music of Ya Ho Wha
***Sacred Bones Record Society version: Edition of 200 copies, pressed on gold vinyl, in an exclusive wrap around sleeve, wax sealed, hand-numbered and with society-exclusive mixed tape, available by mail-order only. ENROLL HERE.***
We have curated an LP of original Ya Ho Wa 13 and Father Yod and the Spirit of '76 (the musical projects of the Brotherhood of the Source) music from their rich and prolific recording history. For those not familiar Ya Ho Wa 13, formed in 1973, are regarded as one of the most extreme, groundbreaking and influential psychedelic rock bands in history. The band released nine super rare LPs (and are rumored to have recorded 65 LPs worth) full of deep spiritual wisdom, tribal drums and distorted guitars, some of which were completely unrehearsed jam sessions, others which contained more conventional rock songs. Most were recorded after hours of meditation at 3:00-6:00 a.m. in a soundproofed garage that served as the musicians' studio at the family's communal residence. All of the records with Father Yod's participation were completely improvised, with no rehearsals or overdubs and feature him on lead vocals and percussion, via a kettle drum. Most of their original music was pressed in small runs and are highly sought after collector's items. We are super excited to have listened through hours and hours of this transformative music to bring you what we think is an absolutely essential compilation of some of their best songs.
Produced in celebration of the book Family: The Source Family Scrapbook. 

Each purchase comes with a link to 13 hours of original Source Family meditations led by Father Yod. This audio will be a mail-order exclusive!
More about the book:
FAMILY: THE SOURCE FAMILY SCRAPBOOK provides an immersive view into the public and private world of the Southern California occult commune The Brotherhood of the Source. Edited by Isis Aquarian, Charlie Kitchings, and Jodi Wille, this lavishly illustrated book reproduces 200 original scrapbook pages assembled by family historian Isis Aquarian from 1972-1977, documenting the group's dramatic rise and fall, from their time living together in the Hollywood Hills operating their wildly popular Source vegetarian restaurant on the Sunset Strip to their exodus to Hawaii and San Francisco as the group began to unravel.
Copious unpublished photographs, newspaper clippings, letters, manifestos, album art and flyers, augmented by descriptive captions, reveal the Source Family's astonishing trajectory, from controversial leader Father Yod's spiritual awakening to the group's wild musical and social experimentations, to the provocations that led to the group's paradise lost. These pages provide a revelatory, firsthand view into the widely misunderstood phenomenon of new religious movements and cults of the 1960s and 70s.
This book is a beautiful 200pg full color, cloth bound, and embossed 11"x12" hardcover coffee table book.

 Release date: 11/18/22