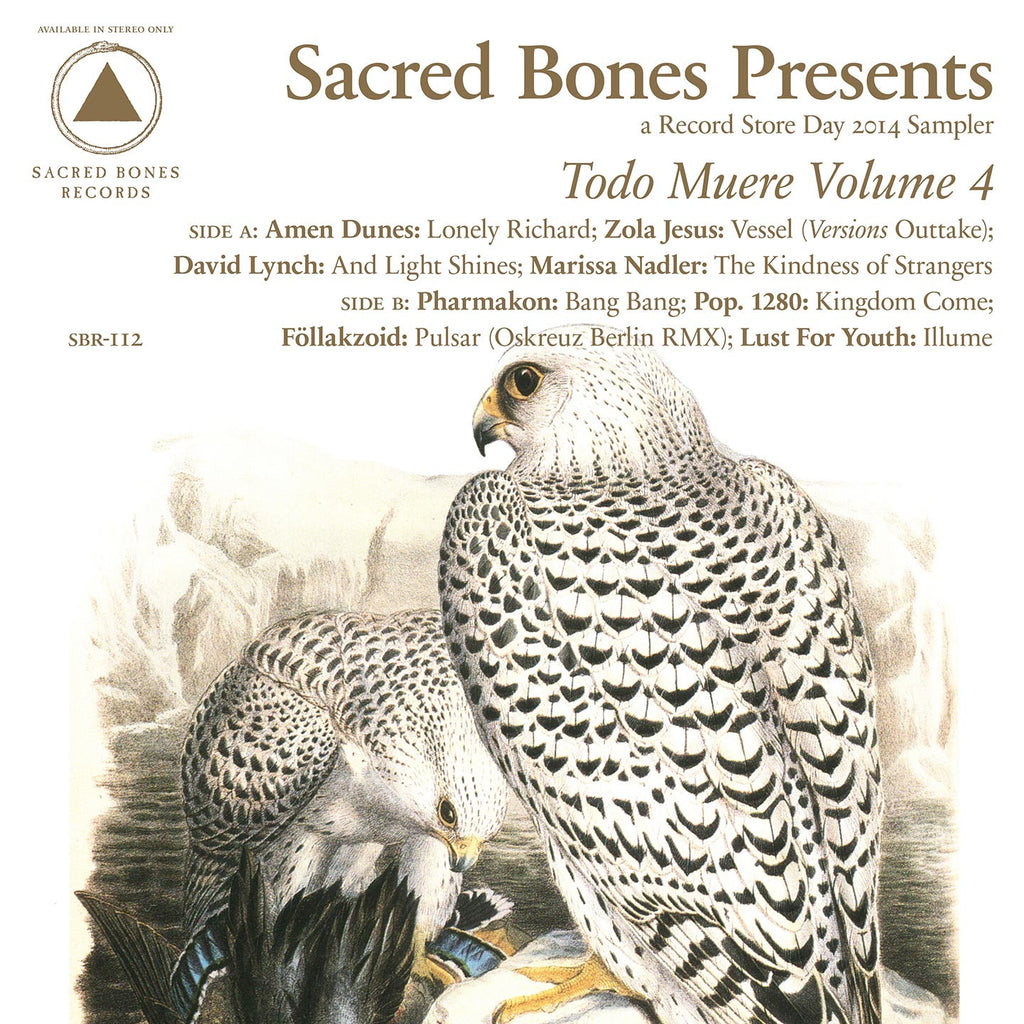 2014's Record Store Day vinyl compilation, Todo Muere, features eight tracks from a wide variety of roster artists, each one new or previously unreleased on any physical format. The first track is "Lonely Richard" by Amen Dunes, a hazy cut from the band's LP, Love. That song is followed by a recording of Zola Jesus' "Vessel" taken from the sessions for 2013's Versions, the string quartet album she made with the composer J.G. Thirlwell (Foetus). Side A is rounded out by "And Light Shines," a David Lynch song from The Big Dream sessions that was previously unavailable outside of Japan, and Marissa Nadler's spare, haunting take on the Nick Cave & the Bad Seeds track "The Kindness of Strangers."
Side B of Todo Muere, Vol. 4 kicks off with a bang – two, in fact. Pharmakon's cover of "Bang Bang," the great song written by Sonny Bono for Cher and popularized by Nancy Sinatra, is a sharp cold-water shock that shows a side of Margaret Chardiet that may surprise fans of last year's Abandon LP. Pop. 1280 follows that with the track "Kingdom Come." Föllakzoid's Domingo Garcia-Huidobro contributes a new minimal techno remix of his band's "Pulsar" for the penultimate track on the collection, and "Illume" from Lust for Youth's LP International shows the band moving completely out of coldwave into far warmer territory, even adding guitars to the mix.
Like the three volumes that preceded it, Todo Muere Vol. 4's track listing is as eclectic as the Sacred Bones roster itself, and for longtime followers and new fans alike, it serves as a snapshot of where the label was in 2014. 
Release Date: 4/19/2014