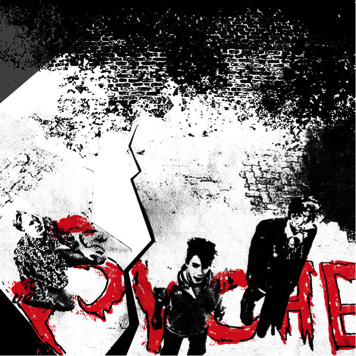 Psyche
Re-Membering Dwayne
At the end of 1981, brothers Darrin and Stephen Huss and schoolmate Dwayne Goettel performed for the first time as Psyche in Edmonton, Alberta, Canada. Their live show was a combination of horror and electronics that was completely unprecedented in Western Canada. Although Goettel and the Huss brothers parted ways before Psyche was to release any material, the masters containing Dwayne Goettel's performances were preserved in the band's vaults.
Now, 19 years after Goettel's untimely passing in 1995, Dark Entries records presents "Re-Membering Dwayne", the original Psyche-Dwayne Goettel sessions. All tracks were recorded and mixed on 4-track during a single day in March of 1983. Psyche's early material is visceral and abrasive, a far cry from the sleek, dark synthpop they'd later become known for. Like the body horror films of fellow Canadian David Cronenberg, Psyche disquietingly conflate the organic and the mechanical, calling into question the limits of the human form. Dwayne, who would join Skinny Puppy a few years later, contributes heavily to this more aggressive, disturbing sound.
All songs have been remastered for vinyl by George Horn at Fantasy Studios in Berkeley. Each LP includes a 12-page booklet with excerpts from Darrin Huss' diary, unpublished photos of Psyche with Dwayne, and an essay by Darrin reflecting on Psyche's past and the Goettel legacy as well as lyrics. This collection is a glimpse at the early Canadian industrial scene and the roots of Skinny Puppy. Go take a walk in the past with an ear for the future; you just might learn something.