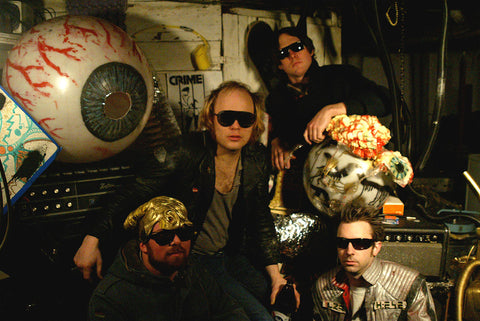 Human Eye
Detroit's Human Eye is a futuristic sound world with rock'n'roll roots that aims to assault all the senses. Fronted by Timmy Vulgar (formerly of the Clone Defects), who also released a solo record on Sacred Bones under the name Timmy's Organism, the band's sonic palate ranges from heavy psychedelia to proto-punk and beyond. Their live shows are primal, chaotic and unpredictable, utilizing home-made props and masks or whatever your local dollar store has to offer. Human Eye's debut album was released on In the Red records, and the follow-up LP, Fragments of the Universe Nurse is available via Hook Or Crook records.
The band continues to explore the themes of inter-planetary life and travel, aliens/human relationships and horror films, all filtered through an unhinged psychedelic punk juggernaut.
One of the world's last real examples of avant garde punk music, Human Eye is the yardstick by which all real rock'n'roll weirdness should be measured. As far back as 2004, these oblique creatures of the darkest, most unlit spaces in the universe carved out their very own caveman-cum-alien formula of sickening sounds. Withstanding lineup changes and label rearrangements, they've succeeded in baring the frayed edges of their own sanity and creating something truly awe-inspiring with each successive release.